I recently looked into my closet and realized that I have more black and white striped tops than I remembered ever buying. I guess it's fine, since it really has become my uniform (
here
). But, so I don't have a constant "Doug" moment, I wanted to figure out a way to update them in a cute way. Thankfully,
Pinterest
provided great sources of inspiration. Here's how to add a sequin heart elbow patch to any top or sweater. Full tutorial after the break.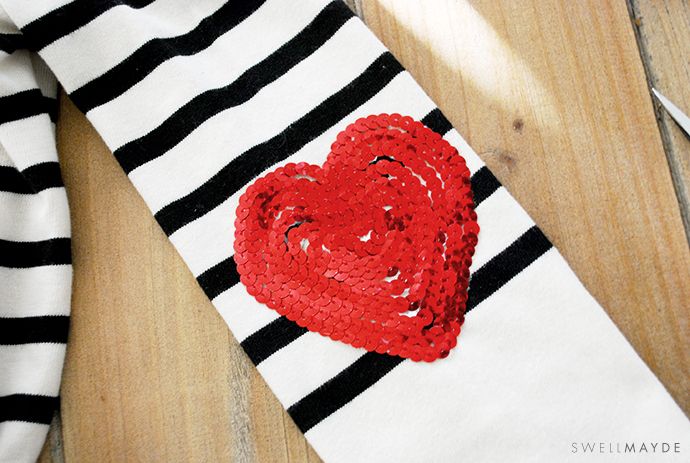 Materials:
- striped top (here)
- 3 1/2 yds sequin trim (here)
- liquid stitch (here)
- scissors
- copy paper
- pencil
Steps:
1. Fold the copy paper in half. Draw half of a heart about 3 1/4" tall.
2. Cut out the heart.
3. Place the paper heart on top of the sleeve, where your elbow would land. This should be at the center of the sleeve, about 9 1/2" from the armhole seam. Add a thin line of liquid stitch around the paper heart. Then, remove the heart.
4. Place the sequin trim on top of the liquid stitch.
5. Continue adding a thin line liquid stitch and placing the sequin trim on top until the whole heart is filled with sequins. Repeat for the other sleeve.