I am loving thin, delicate jewelry. And as promised, I wanted to create a second chain bracelet tutorial (part one:
here
), with a delicate touch. These bracelets are great to add a mix of thin and thick bracelets to your arm party. Full tutorial after the break...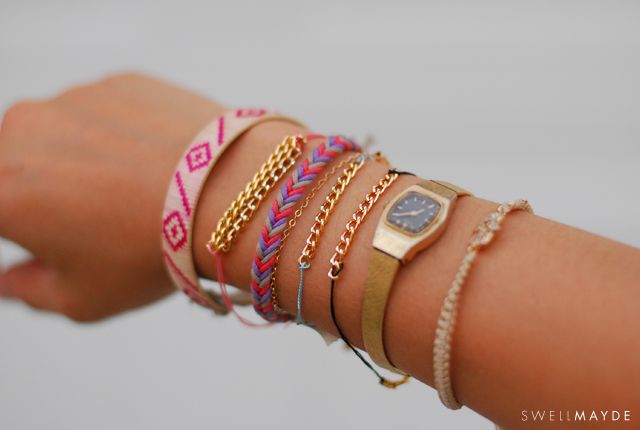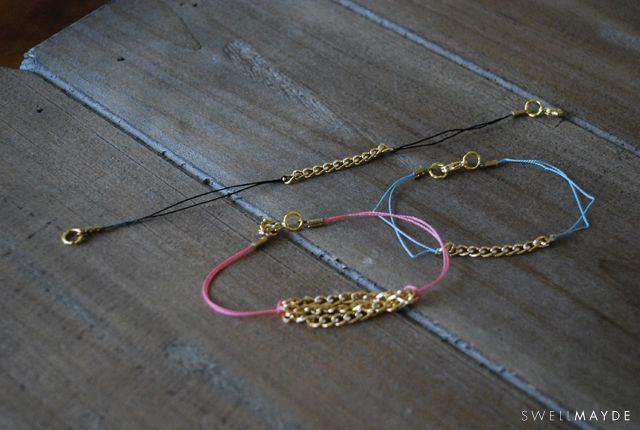 Materials:
- thin chain
- bead cord/thin rope (here)
- lobster claw
- 2 small jump rings
- 2 metal cord tips (here)
- scissors
- pliers

Steps:
1. Cut the thin chain to 1 1/2". You can make the bracelet with 3 small chains or just 1.
2. Cut 2 pieces of bead cord/thin rope to 6".
3. Fold the rope in half and loop through one end of your chain (or all three ends if making a 3 chain bracelet).
4. Take the ends of the rope and pass through the loop. Pull tightly.
5. Repeat for the other end of the chain.
6. Add a dab of glue to the inside of the cord tip.
7. Clamp the cord tip onto the rope. Cut off excess. Tip: Make sure to measure your wrist to know where to place the cord tips and how to much to cut off. Repeat for the other end of the bracelet.
8. Using pliers, add a jump ring to each cord tip. Add a lobster claw to one of the jump rings.