I am completely honored to collaborate with
Alternative Apparel
on DIY'ing their "Message Bag" (available
here
and
here
). They have partnered with activist beauty, Olivia Wilde, to design this convertible backpack/messenger for a charity. A portion of the sales will benefit the Academy of Peace and Justice, a secondary school in Haiti. A really awesome cause! I love that this bag promotes creativity, and if purchased in their
Abbot Kinney location
, they have an amazing DIY station, in which you can personalize your very own with many stud and bead options. I hope to stop by this weekend to add a few more fun touches!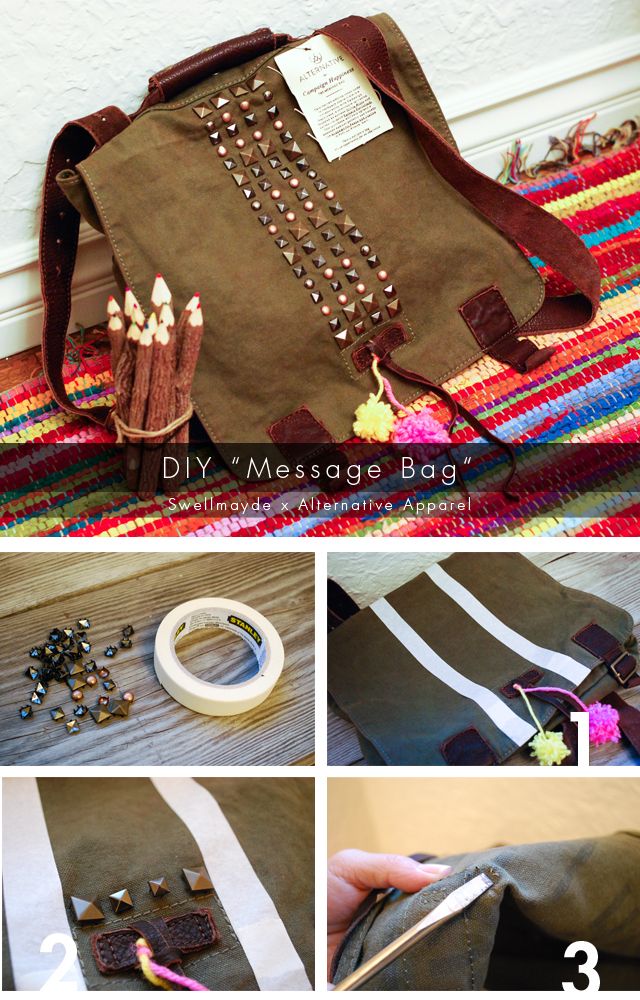 Materials:
- yarn (here)
- fork
- scissors
- Message Bag

Steps:
1. Take one end of the yarn and insert it into the middle of the fork.
2. Begin wrapping the other end of the yarn until it creates a small bundle.
3. Cut a piece of yarn, about 8" long. Use the cut yarn to tie in the middle of the bundle. Double knot very tightly. Do not cut the leftover length.
4. Remove the yarn bundle from the fork and cut on the right and left side of the knot.
5. Cut any yarn that in uneven to create a more circular shape. Then, with the hanging yarn, you can tie the pompoms onto your bag. Choose a couple bright colors to create a fun combination of pompoms.

Materials:
- drafting/masking tape (here)
- a variety of studs (here)
- Message Bag

Steps:
1. Tape your guidelines for a 3" stripe on the flap of the bag.
2. Place your studs in between the guidelines, one at a time. Have fun and use a variety of different shapes and finishes.
3. On the inside of the flap, push the prongs of the the studs down to secure them to the bag.