When
Tulip
approached me about creating a tie dye tutorial, I wanted to challenge myself and use items other than clothing. I thought maybe something for the home, like a curtain or tablecloth, but when I saw a photos of galaxy print shoes online, I couldn't get them out of my head. There's something so beautiful about how all the colors blend into each other, almost like a watercolor painting. I checked out all of the tie dye techniques that Tulip provided and felt that "sponging" would work best. See the full tutorial after the jump...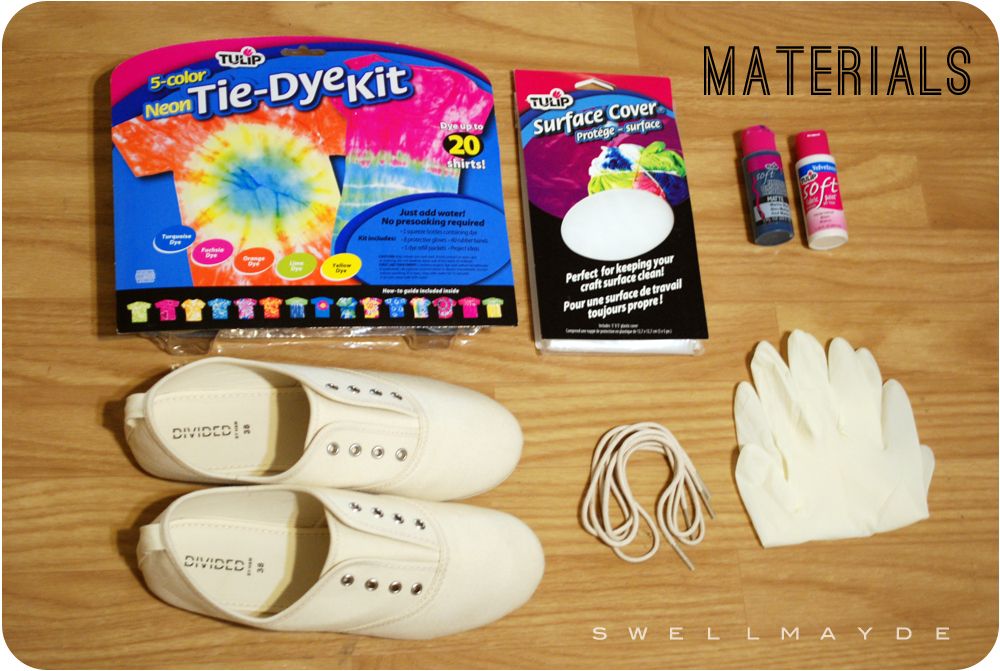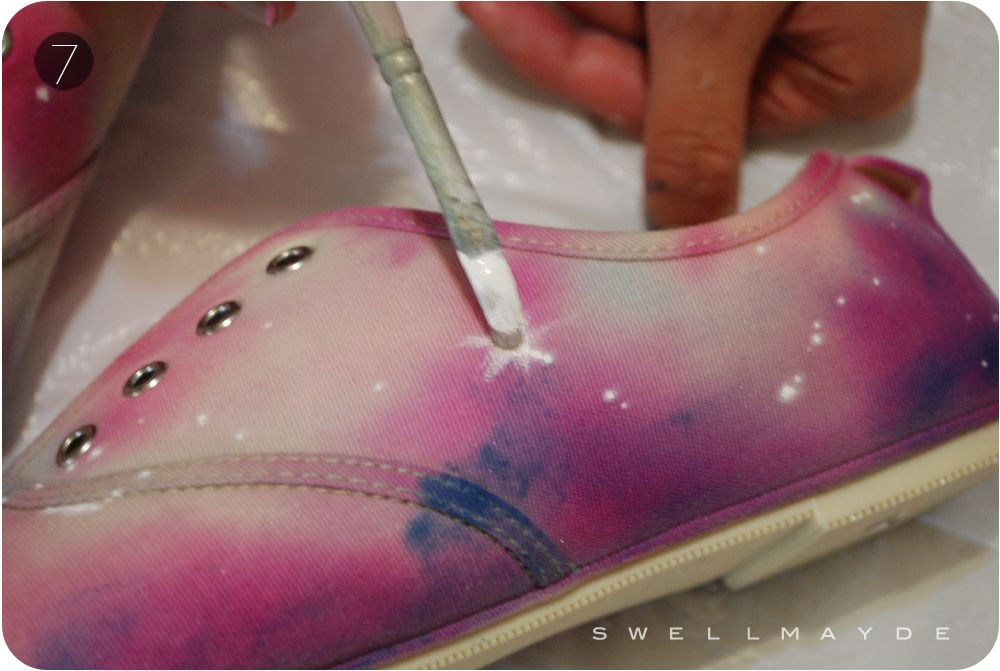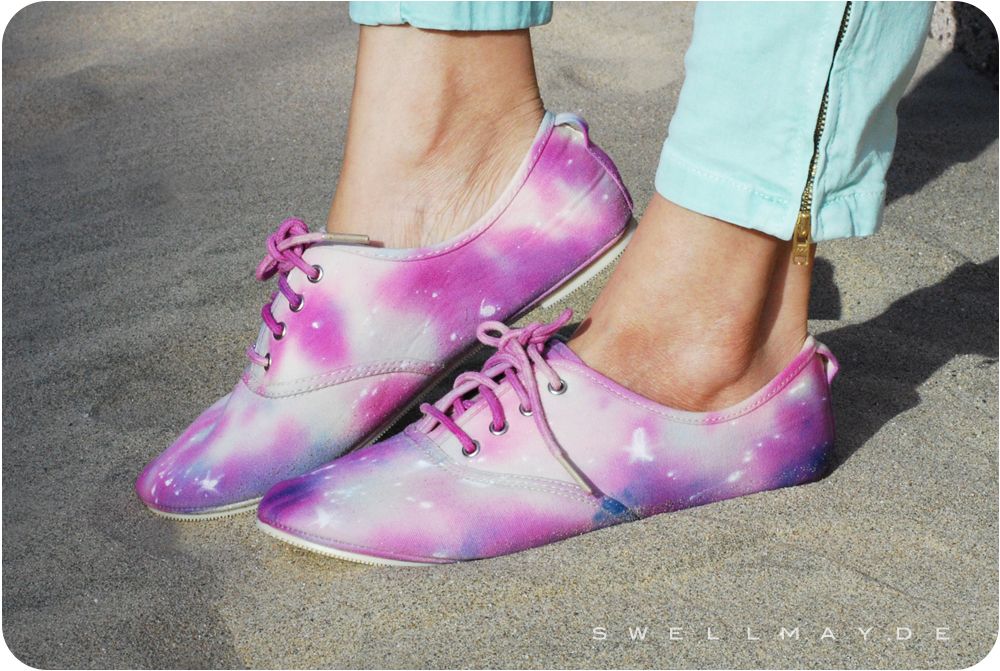 Materials:
-
Tulip
Soft Fabric Paint in Marine Blue and White Velvet (from a previous project)
- Sponge or Sponge Brush
- Paintbrush
- Cotton Canvas Shoes
- Gloves
Steps:
1. Wearing gloves, add water to the dye bottle to the fill line to the magenta and blue dye. Replace cap, and shake until the dye is dissolved. Pour about 1/8 of the magenta dye bottle onto a plate.
2. Run the shoes and laces under water until fully wet. Take your sponge and dab on magenta dye around both wet shoes and laces. I like to leave sections of the shoe un-dyed. Run your sponge under water, continue until it is fully clean. Soak water into your sponge and brush water onto both shoes. This creates more of a watercolor effect with the dye.
3. Pour out about 1/8 of the blue dye bottle onto the same plate. Mix the colors well with your sponge brush to create a purple dye.
4. Brush the new purple dye onto the shoes. I stayed mostly in areas that had deep magenta sections, giving it a purple highlight. Again, run your brush under water until it is fully clean. Then, brush on water to create the watercolor effect.
5. Onto a new plate, pour out about 1 tablespoon of navy fabric paint (I used Tulip Soft Fabric Paint in Marine Blue from a previous project:
Floral Denim Shorts
). Then, add about 3 tablespoons of water to water it down. Take your clean sponge brush, and add touches of blue to both shoes. Again, run your sponge under water until it is fully clean. Then, brush on water onto the shoe to create a watercolor look.
6. Take a regular paintbrush and flick the white fabric paint onto the shoes to create a starry look.
7. Use your paintbrush again to accentuate some of the stars by painting a few starburst lines. Then, let fully dry.
A big thank you to
Tulip
for providing the awesome materials and great tie dye tips!! You can find all of their products at your local Michael's and and find them on twitter (
@ilovetocreate
),
facebook
, and
pinterest
. I wrote this post as part of a paid campaign with iLoveToCreate.com and Blueprint Social. The opinions in this post are my own.
Also, here is a really helpful tie dye guide: