INSTRUCTIONS:
1. tear 0.5" strips of chiffon, cut strips into ten 5.5" pieces
2. fold 9 strips in half
3. use the 10th strip to tie the bundle
4. add e-6000 inside the bell cap, insert tassel (cut knot smaller if necessary)
5. add knots and beads, have fun with colors
6. wrap embroidery thread around knot at each end
7. to create adjustability, add single knot at ends of rope as shown in photo
8. fin! a swellmayde tassel necklace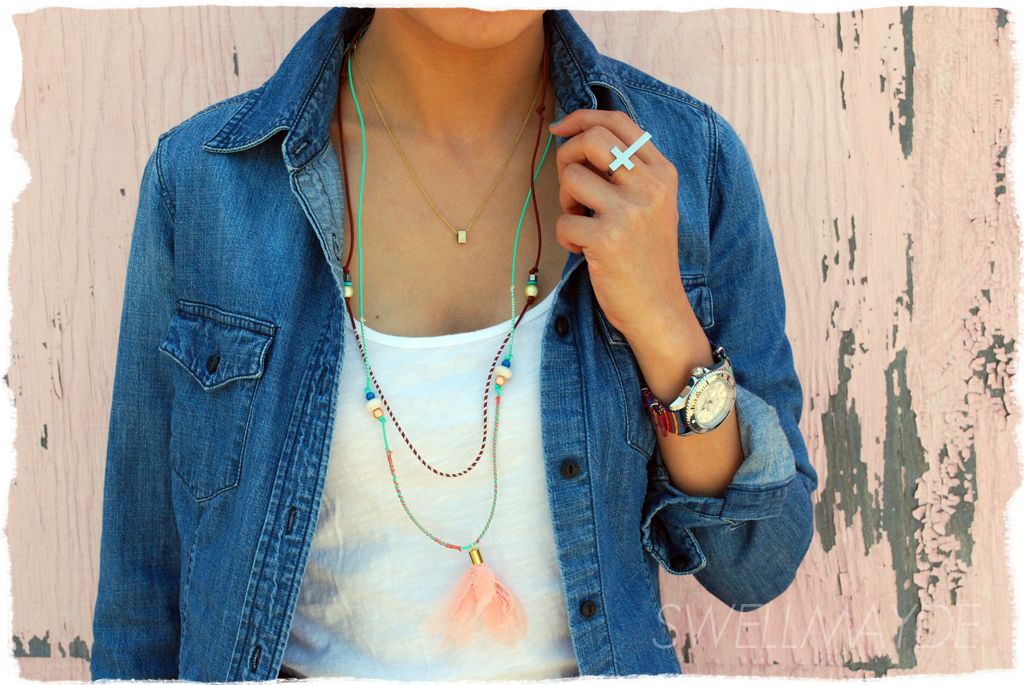 (outfit: uniqlo button up, zara tank, topshop leather shorts)
I have noticed tassel necklaces on my favorite blogs/style sites and boutiques for some time now, and I have been waiting for the perfect inspiration to create a SwellMayde version. When I saw this Jewel Mint Encore Necklace (
here
)... I thought the craftsmanship and the details were so great for a fun summer accessory. Above I created a tassel with a bell cap and chiffon fabric for a light, ethereal feel... mixed with a modern pop color rope/thread. Hope you all enjoy!
xoxo, aimee

P.S. I have created a new DIY gallery! i'd love to know what you think!